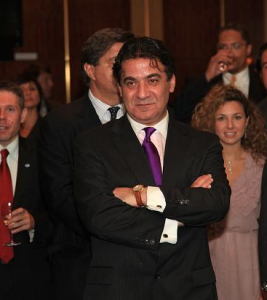 Ziad Abdelnour, Wall Street financier, trader and author is currently President and CEO of Blackhawk Partners Inc., a private equity and physical commodities trading firm based out of New York City, Founder & President of the United States Committee for a Free Lebanon (USCFL), Founder & Chairman of the Financial Policy Council, Member of the Board of Governors of the Middle East Forum and Former President of the Arab Bankers Association of North America.
Since 1985, Ziad Abdelnour has been involved in over 125 transactions totaling over $10 billion in the investment banking, high yield bond and distressed debt markets and has been widely recognized for playing an integral role in the global capital markets.
Ziad Abdelnour received his Master of Business Administration in Finance from the Wharton School of Business at the University of Pennsylvania and a Bachelor of Science in Economics from the American University of Beirut, where he graduated Summa Cum Laude.
Ziad Abdelnour is the author of Economic Warfare: Secrets of Wealth Creation in the Age of Welfare Politics, a book that expresses novel acumen for business people and investors seeking wealth in the volatile post-crisis world.
In a no holds barred expose of the 2008 financial meltdown from the inside, Ziad Abdelnour argues that the political and financial elites have done nothing to fix the structural problems and instead have worsened the situation. By creating more market bubbles, they are actually waging a war on the most productive members of society.
For investors, business people, and entrepreneurs that need to navigate the troubled geopolitical waters of the post-crisis world, Abdelnour offers several solutions, including looking at the world anew and understanding that the federal government's primary objective is to promote the creation of an environment conducive to the creation of wealth not job creation, not bailouts, not subsidies, not expansion of the federal bureaucracy, and not providing lifetime support to those who choose not to take advantage of the innumerable opportunities that exist in this nation for them to create a better, more productive life for themselves.
Since its publication in December 2011, the book has got raving reviews from wealth creators and entrepreneurs alike. See Amazon for more details.